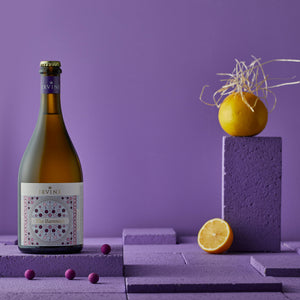 ... and a propensity to age well – meet The Baroness.
Here at Irvine we are fortunate to work with exceptional fruit grown by fifth generation Barossans. As well as celebrating the varietals we have grown up knowing and enjoying – Merlot, Shiraz, Chardonnay – we also like to turn winemaking on its head every now and again, push the boundaries and try something new and different.
For our winemaker, Rebekah, this experimentation is an integral part of her role. Take our latest addition to the Pushing Boundaries range - The Baroness. Irvine is one of only two wineries in Australia to grow Petit Meslier – a classic Champagne grape. In The Baroness, Rebekah has paired it with Chardonnay (58% Petit Meslier to 42% Chardonnay) to create a sparkling in the style known as Pétillant Naturel (you'll hear us refer to it as Pet Nat).
One of the traits of Pet Nat wines is the complexity that comes from extended time on yeast lees, and what results is a bone dry, zesty sparkling wine that looks slightly cloudy in the glass but is delicately refined on the palate.
The Baroness is a surprising and delightful alternative to traditional sparkling or prosecco and is also the perfect ingredient for a spring-inspired layered gin cocktail. Think ice, soda, fresh lemon juice and riberry syrup - https://www.inkgin.com/cocktails/ - seriously refreshing!
Order yours now in time for spring and summer celebrations, picnics and get togethers.