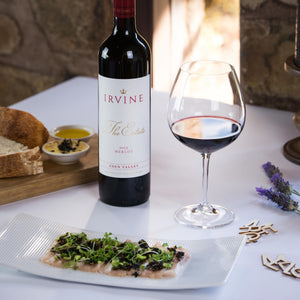 Merlot is the great mixer - that smooth and rounded character that lends itself to blending with other grape varieties also means that it matches well with a lot of different foods. A balanced Merlot will have both fruit and savory elements so will work well with deeply savoury (umami) flavours. Not only roast meat such as beef, lamb and duck, but also roast chicken and pork.
The delicate tannins in the Estate Series Merlot will not overpower the lighter meats. Bring out the herbal elements with a classic garlic/rosemary combination and consider roasted vegetables with a touch of sweetness such as beetroot, parsnip, carrot and red peppers.

Need proof that Merlot is truly versatile? We matched our 2015 Estate Merlot with Hiramasa kingfish sashimi, roasted nori salsa, wasabi and fried peas. The heat and savoury of the wasabi went beautifully with the lush black cherry fruit of the wine, while the soft tannins melded with the delicate nature of the kingfish.