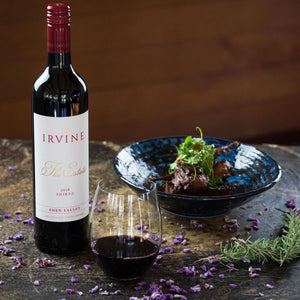 Food and wine matching – if you want to move beyond the 'red wine for red meat, white wines for seafood/chicken' and get more experimental, then these are exactly the wines for the job.  These are wines for foods where the quality of produce -  fresh and seasonal -  just sings. 

A great place to start is the flavourful middle-eastern cuisine where vegetables are at the forefront – the master of which is Yottam Ottolenghi - try this Beef, Beetroot and Habanero Stew which is a glorious symphony of flavours to match a complex wine such as the Barossa Valley Shiraz.  Or try sprinkling the fragrant middle-eastern spice mix 'Ras el Hanout' over oven roasted veggies and lamb chops ...or chicken.  This versatile mix is quite addictive and well worth seeking out (herbies.com.au has two wonderful blends - and home delivery!).
The more delicate Eden Valley Shiraz would work well with restrained Vietnamese, Middle Eastern or Indian dishes with just a touch of spice such as Sabrina Ghayour's Souk Spiced Leg of Lamb with Pomegranate Salsa. Or for something beautiful and unusual for a summer lunch, try Edd Kimber's Blackberry and Goat Cheese Quiche.

The Eden Valley Chardonnay has the balance to take on something like Kylie Kwong's Snapper Sashimi with Chilli-lime Dressing. Or alternatively, the creaminess would work with a simple smoked trout pate (make your own or buy the best you can get hold of – we won't judge you!).  Or a lovely Meredith Goat's Cheese would be a great match too - we particularly love their Warm Potato Salad with Huon Cold Smoked Salmon and Meredith Dairy Dill Chèvre for a simple but flavoursome supper with friends.