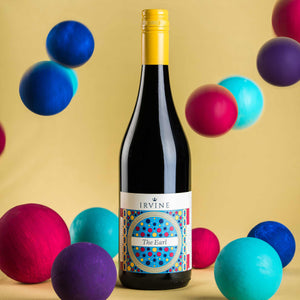 It's time to introduce you to the latest member of the Irvine family – The Earl.
The Earl is a playful, plush wine that is bursting with red plum and violets on the nose and black cherry and soft tannins on the palate.
Slight cheeky, delightfully approachable and a perfect accompaniment to good times, The Earl Cabernet Franc joins our innovative and fun Pushing Boundaries range alongside The Baroness Pet Nat sparkling and our Primivito Noir.
By keeping it unfined and unfiltered, and gently guiding the winemaking process with minimal intervention, our winemaker Rebekah Richardson has allowed the true flavours of the Cabernet Franc fruit to shine.
Known for producing an aromatic, soft red, Cabernet Franc is more subtle than its well-known progeny, Cabernet Sauvignon.
Fruit is sourced from the Eden Valley before being aged in older French oak to let the varietal flavours shine through.
Enjoy while taking in the brooding and thoughtful tunes of Sturgill Simpson's Breakers Roar.