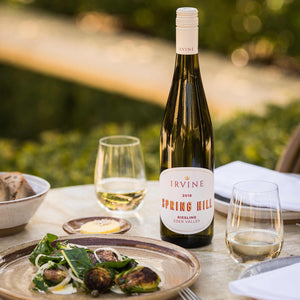 Our 2019 Spring Hill Riesling has been a year on year hit and one that we certainly can't turn down on a warm summer's day, out sitting by the pool with friends.
The riesling grape originated in the Rhine River region, which runs throughout parts of Germany, France, Austria, and Switzerland. This isn't surprising considering the desirable growing conditions in cooler climates and slate soils like those found in Germany and France. We are fortunate to have similar growing conditions in the Eden Valley, cooler days in the growing season with mineral-rich soils makes Eden Valley one of Australia's premier riesling producing regions.
Our Spring Hill Riesling gives off pale straw with green hue colouring with fresh lemon, white floral and kaffir lime on the nose. It's light and bright charisma entices from the first impression, warming up those taste buds for that highly anticipated first sip!
And as our riesling hits your lips, your palate will come alive with the entrance of this tight and refreshing drop. Delicate and lightly weighted, it continues with a mineral finish – a truly versatile white wine that is also perfectly paired with a range of dishes.
And if you're anything like us, enjoying a few glasses of this easy-sipping riesling on the weekend has become quite a regular pastime. If you're sipping on our Spring Hill Riesling with a few friends around on a Saturday or Sunday and are starting to think of what to do for dinner, this chicken piccata recipe is your match made in heaven.
This recipe is relatively quick and easy, yet tasty and just a little bit fancy to impress your friends with your culinary skills as well as your superior choice in riesling!
This chicken piccata draws much of its flavour from the acidic lemon juice and briny capers used in the sauce. What's even better is that our Spring Hill Riesling's clean flavours and freshness won't overwhelm the simple flavours from the chicken and the sauce. They work hand-in-hand to give you a light, tasty and impressive summer dish to end the day on.
Enjoy!