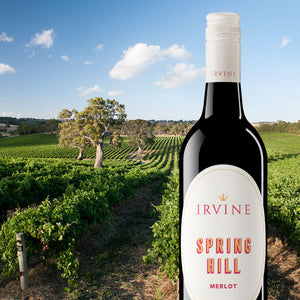 We've released our 2017 Spring Hill Merlot, a wine we believe will continue to enhance the Australian Merlot's evolving reputation.
For many years Merlot was a minor player in Australia, with the variety not registered in official records of tonnes crushed in Australia until 1987. However today, the variety is one of the most popular red wines and the second-most planted grape in the world!
Our
2017 Spring Hill Merlot
is a wine that represents Irvine's versatility and distinction. The 2017 Spring Hill Merlot is a blend of both Eden and Barossa Valley sub-regions, sourced with different expressions of the variety and blended together to give the freshest and truest representation of Merlot. Rich and juicy, it is bursting with distinct characters, vibrant fruit and velvety softness. It is delicate on the palate with hints of lavender, cherry and mocha.
With upfront fruit flavours, moderate tannins, and balanced acidity, Merlot is a great food pairing wine. While our Spring Hill Merlot's versatility makes it a great wine pairing for many red meat dishes, we personally love to enjoy it with
Balsamic Beef Short Ribs
. This dish is the perfect winter warmer and once prepared, you will feel like you are dining in a five-star restaurant in the comfort of your home!
The 2017 Spring Hill Merlot adds to our collection of wines from the Spring Hill range that are fresh, vibrant and deliciously approachable. The range includes Riesling, Pinot Gris, Primitivo Rosé and Merlot. These wines are sure to impress – they are affordable in price yet exceedingly generous in flavour and character.
Buy our Spring Hill Merlot now2017 Irvine Spring Hill Merlot - 90 points
 - A bright, focused merlot with redcurrant and cranberry aromatics. The palate is deliciously supple, pure and elegant, with bright acidity and fine tannin. (Toni Paterson MW, The Real Review)