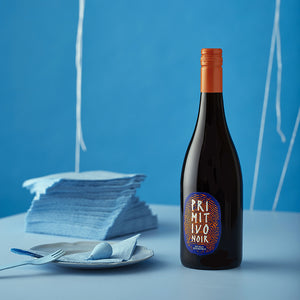 Our lastest wine release, the 2017 Primitivo Noir from Irvine Wines was recently released to high praise! We are super excited to launch such a unique wine, possibly one of kind in Australia. A bold move by our winemaking team, but one that embraces their vision of innovative, exciting and unique wines that wine drinkers will love.
There is a saying in the wine community that 'great wines are made in the vineyard'. This does not mean winemakers are fermenting wines on the side of vineyard hills and filling barrels between the roses and start of the rows! What it does mean is that great wine really starts in the vineyard with grapes carefully suited to the place they are planted, how they are nurtured, pruned, thinned and of course harvested. The French call it 'Terroir' – the complete natural environment in which a particular wine is produced.
We like to think some great wines are a mix of the vineyard and also the imagination and bravery of the winemaker and viticulturalist! Whilst harnessing all the incredible characters of fruit delivered from the vineyard it is often difficult to raise your head above the crowd and make something truly different. Kudos then to Peter Miles, viticulturist and Rebekah Richardson, winemaker who have done just that with the creation and release of the 2017 Primitivo Noir.
What is it you ask? Is it red, is it white, is it pink or is it bubbly? Sounds a bit Italian maybe with a bit of 'Pinot' thrown in. Where did it come from?

It was conceived at the end of a hot, sweaty Barossa summer's day, when Beck and Peter had a hankering for a refreshing, reviving glass of vino...but a red, not a white. Beck's eyes fell on the Irvine Primitivo grapes that were gloriously lush and flavourful after a near perfect slow ripening season. Having worked with Zinfandel (basically the same grape) in the Sonoma Valley in California, and loving Italian Primitivo, she knew she could use this exceptional grape to create something quirky, full of character and eminently drinkable in the sunshine: a versatile, refreshing and very, very approachable red.

It's not an Italian Primitivo and its not a Californian Zinfandel: it's firmly rooted in our Australian relaxed lifestyle, our independence and our love of individuality. It's a red to enjoy chilled – pop it in the fridge for 30 minutes prior to opening. Then celebrate life's unexpected joys: at a sunset crayfish BBQ, doing bombies with kids in the pool or after a morning surf.
Beck has made the wine using some classic techniques for Pinot Noir. It was picked in the cool of night and had a long, cool fermentation with a combination of whole and crushed fruit. So, very 'Pinot Noir'. Less skin contact during the fermentation process kept it light and fresh with delicious, soft tannins. A small amount of wine was further matured in old French oak barrels to give a little texture. What has resulted is a wine that is a much more delicate, aromatic lighter style of Primitivo, which has a plush finish and silky tannins. So, very 'Primitivo Noir'.

Rebekah says: "It might well be unexpected: but the joy of being a winemaker is the ability to be brave, to take an unusual direction. There is no need nowadays to be making all the same traditional wines. We have amazing consumers who love to seek out new and exciting approaches to wine. With Primitivo Noir my hope is that it will enthuse people to not only enjoy our curious wines but open up their minds to the whole movement of Aussie winemakers: doing it just that little bit differently.

So, go on and be brave!"
Buy now: Primitivo Noir