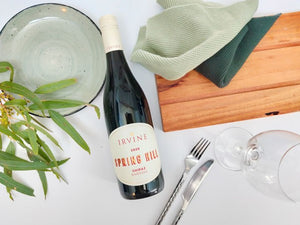 November is one month closer to summer, which means sunshine, good times and outdoor entertaining!
With this in mind, we are excited to announce our newest Spring Hill vintage releases - 2021 Spring Hill Pinot Gris, 2021 Spring Hill Riesling and 2021 Spring Hill Rosé.
We also have a new wine to complement our new release wines – 2020 Spring Hill Barossa Shiraz.
Lachlan Duncan our Winemaker reckons they offer terrific value. 
This full-bodied Shiraz is produced from grapes sourced from two separate Barossa Valley vineyards. Sourcing fruit from both blocks allows us to produce a wine that showcases the best of both vineyards.
Most of these grapes come from our Ebenezer block, a vineyard that consistently delivers darker fruit flavours. The second site is our Haslemere Eden Valley block, responsible for lifting the blend with flavours of red fruit and spice.
To achieve this varietal's signature colour of ruby red with a purple hue, grapes are destemmed and fermented in open top fermenters with eight to ten days on skins.
Fruit-driven and beautifully balanced, this Shiraz shows distinct flavours of dark cherry, vanilla and cocoa, while its 'chewy' tannin structure gives great length and persistence. This Shiraz makes for perfect drinking right now and it is only set to get better with age.
Our Riesling grapes are sourced from vines located at the highest point of our Spring Gully vineyard. With tough, rocky soil with shards of granite and iron stone littering the soil surface, these vines are hardy.
To preserve and maintain the fruit's delicate structure, flavours and aromas, grapes are picked early in the morning, before being quickly destemmed and pressed. After racking and fermentation, the wine is left to mature on light lees to improve texture and mouthfeel.
This Eden Valley Riesling is dry, aromatic and super refreshing with a soft minerality that adds length to the persistent palate. Citrus fruits flavours including lemon and a touch of grapefruit remain at the forefront.
If you're eager to enjoy this wine with food, we recommend you pair it with spicy dishes (if that's your thing) or it works beautifully with fresh seafood.
Like our Spring Hill Shiraz, our Pinot Gris is also made using grapes from two separate vineyards, both of which are in Eden Valley.
Well-drained, sandy loam soil in our original Irvine vineyard, produces delicate and aromatic fruit. Meanwhile, the soil is slightly rockier and lower lying on our Spring Gully block and as a result, these grapes add a greater depth of flavour and complexity.
To reduce phenolic content, grapes are picked cool and de-stemmed with oxidative handling controls in place. A small portion of the batch is also barrel fermented to add depth and texture to the final blend.
This easy drinking, medium-bodied Pinot Gris is light in acidity with a subtle textural finish. Fresh layers of pear, white peach, and lemon curd roll across the palate, while light mineral notes and pretty florals add to the length and complexity. This Spring Hill varietal was made for spring!
The Primitivo Zinfandel grapes that are used to make this varietal are grown in one of our original vineyards, situated on a beautifully terraced, east facing slope. This strong yielding variety requires careful management to produce delicate and aromatic fruit.
Grapes are picked just as the flavours start to mature, to maintain a fresh natural acidity and low alcohol. This varietal must be managed with care during pressing to achieve the desired colour and structure.
This delicate Rosé shows restraint and elegance as raspberry spritz and watermelon flavours interplay with a fine acidity. Watermelon and strawberry puree aromas dominate, while savory notes of sage and rosemary linger. Fresh, clean and light in finish, this wine is a perfect aperitif that you'll find easy to drink all afternoon.
As the weather gets warmer and the days get longer, our Spring Hill wines are perfect for drinking at this time of year. Shop our collection now via our online shop.