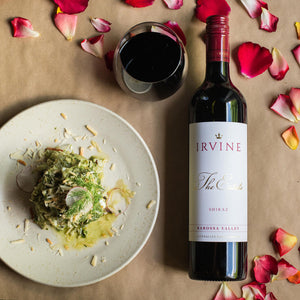 When you think of Irvine Wines, what do you think of...?
If your answer was something along the lines of 'the producer of great Eden Valley reds', then you wouldn't be alone! We've established a name for ourselves as a leading producer of Merlot and a series of other full-bodied and widely loved wines from Eden Valley.
But did you know that we also create some amazing Barossa Valley wines?
And while we might be biased, we're not the only ones to think that either! It was our 2017 Barossa Valley Shiraz that just picked up its own gold medal at the Royal Adelaide Wine Show with a score of 18.5.
Deep rich crimson, with lovely ripe blackberries and a hint of vanilla on the nose, this Shiraz has generous length on the palate with soft tannins and a touch of lush black fruit and Christmas cake.
We've sourced our Shiraz grapes for this 2017 batch from the heart and soul of the Barossa, in our lovingly nurtured estate vineyard. Grown in the warm Barossa climate, with ancient rich soils and full fruit flavours, this wine is testament to our commitment to excellence and craftsmanship.
Not only did this wine win big at the 2019 Royal Adelaide Show, it's also been recognised with a silver and 91 point in the James Halliday 2020 Wine Companion stating that this Shiraz is, "full-bodied, luscious, layered black fruits, given all-important texture on the finish by savoury tannins ex fruit and oak."
Earlier this year we also received an impressive 95 points from Wine Orbit with reviews saying, "a magnificent offering; gracefully powerful". Visit our reviews page here.
With a number of accolades to its name, this 2017 Shiraz is a memorable Irvine Wine that shows off our style, while using Barossa Valley grapes to provide a slight twist on our signature Eden Valley wines.
At a special offer price of just $24 a bottle in a six pack, our 2017 Barossa Valley Shiraz is the epitome of value that we know you will love. Pick up a bottle online and raise a glass with us as we celebrate this great wine!