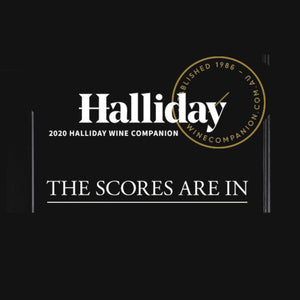 Anyone who is anyone in the wine industry knows the calibre of James Halliday and the hype that surrounds the annual James Halliday Wine Companion Awards.
For many, the Halliday Wine Companion is the industry bible. James Halliday and his team of taste testers do the hard yards, tasting thousands of different wines to create the ultimate guide that recognises some of Australia's best wines, and ensures you'll never drink a bad bottle of wine again. With more than 120,000 tasting notes from over 2,000 wineries, Halliday Wine Companion provides Australia's most comprehensive tasting note library, and were pleased to announce that we've made quite the appearance in the 2020 edition of the Guide.
With 11 wines included in the 2020 Halliday Wine Companion Guide, it's fair to say that we're thrilled! We've spent years mastering the balance between traditional and modern methods to create our own unique style and truly value the appraisals we've received for our wines.
And even better, for the first time ever, we've been recognised as a five-star winery! This five-star mark given to us by James Halliday lists us as "An outstanding winery capable of producing wines of very high quality and did so this year."
We set up shop in 1867, with the first generation of Miles' settling into the Barossa way of life and planting our first shiraz vines that are today, among the world's oldest. It was Jim Irvine in 1980 that became the regional merlot champion and over a decade later the flagship Grand Merlot achieved the highest accolade, being named World's Best Merlot.
We're proud to be in our fifth generation of the Miles family managing Irvine Wines and are so delighted with the list of wines we have been recognised for by James Halliday in the 2020 Wine Companion Guide, as seen below.
2016 Icon Zinfandel – Gold, 95 Points
Review: 30yo vines, cool-fermented, matured in second-use French barrels. Works very well, there is abundant cherry/berry fruit, fine tannins and balanced oak. Just when you think that's it, the juicy aftertaste adds yet another dimension.
2014 Grand Merlot – Gold, 95 Points
Review: 30+yo estate vines. Irvine and merlot are names that have been, are now, and will surely remain, linked in love and war. But you have to be careful: this winery is no longer owned by Jim Irvine. This baroque version is similar to that created by Jim way back, and - within its design specifics - is very well made.
2018 Spring Hill Riesling – Silver, 93 Points
Review: Just pure lime and lemon juice flavours given shape and length by soft acidity, customised for its role with the fruit. No winemaking tricks other than low juice extraction through the press.
2017 Estate Eden Valley Merlot – Silver, 93 Points
Review: A mix of the old Aus clone D3V14, generally regarded as poor, and new clones Q45 and 8R that are seen as the likely saviours of merlot with their vastly improved qualities. Open-fermented at moderate temperatures and matured in French oak (15% new) for 12 months. It has gentle cassis and plum fruit, with soft tannins refreshed by the modest alcohol of the vintage.
2017 Estate Eden Valley Shiraz – Sliver, 93 Points
Review: As ever, the Irvine bottles and labels stand taller than all others in the tasting line-up. Estate-grown from a single block of clone 1654, earlier picked than hitherto, cool-fermented, matured for 9 months in French oak (20% new). An unqualified success, the cool vintage also part of the style, and the question whether the style will prosper or not in warmer vintages. As it is, bright, intense flavours drive the long palate.
2017 Primitivo Noir – Silver, 92 Points
Review: A decidedly curious name for a primitivo that is more rose than table wine with its bright, light, clear crimson-purple. The flavours are all red: strawberry, raspberry and red cherry, tannins banished to the sidelines. Drink asap.
2017 Estate Barossa Valley Shiraz – Silver, 91 Points
Review: 25yo vines, open-fermented, 12 months in French oak (20% new). Full-bodied, luscious, layered black fruits, given all-important texture on the finish by savoury tannins ex fruit and oak.
2017 The Earl Cabernet Franc – Bronze, 90 Points
2017 Spring Hill Merlot – Bronze, 89 Points
2017 The Baroness – Bronze, 87 Points
2018 Spring Hill Pinot Gris – Bronze, 87 Points