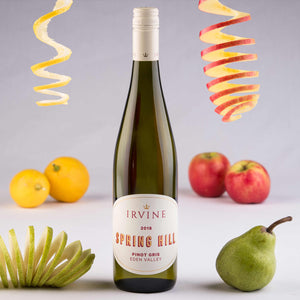 September marks the long-awaited beginning of Spring – the days are getting longer, the evenings are getting warmer, and the Sunday afternoons drinking wine while lapping up the beautiful sunshine have already begun. And we're excited that the beginning of Spring also marks the release of a new vintage in our Spring Hill collection – the
2019 Spring Hill Pinot Gris
!
Fresh, vibrant and deliciously approachable, Pinot Gris is an amazingly versatile variety; from light and fresh, to layered and complex. Our 2019 Pinot Gris lies somewhere in the middle, with lovely soft layering created by minimal skin contact, cool ferment and some post ferment yeast contact.
Honeysuckle, pear and a touch of fresh lemon tempt the nose on first smell and on first taste you'll be delighted with the texture this Pinot Gris brings to the palate. Minerality balances perfectly with elegant flavours of pear and lemon.
Pinot Gris is one of Australia's popular upcoming varieties. Since the 1990s, it's been championed by a dedicated group of winemakers in Australia, with stand-out expressions noted as originating from the Adelaide Hills and Barossa region, Mornington Peninsula, and Tasmania.
While
Pinot Gris
isn't yet competing with the heights of Sauvignon Blanc, it is growing rapidly. It has, however, already outshone the number of Viognier, Verdelho, Muscat, Colombard and Riesling plantings, and it's now nipping at the heels of Semillon. Wine drinkers simply can't get enough and we couldn't agree more. We love this variety and love its versatility – the perfect spring and summers day drink!