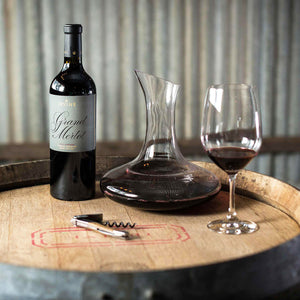 We felt like it was time that we gave our Irvine friends something to celebrate amidst the current chaos and unrest of our world at present… So after great demand and anticipation, we are thrilled to launch our new release 2016 Grand Merlot.
Back in July 2019 we sold out of our 2014 vintage, and our 2016 vintage is sure to impress our loyal merlot drinkers equally as much, if not more!
Grapes for 2016 Grand Merlot are sourced from our original and pristine vineyard in Eden Valley. Planted in 1983, our Grand Merlot vineyard has been nurtured to ensure the fruit grown and harvested is of the highest quality and structure. This site faces north-west to catch the warm sun late in the season when the days are short, making sure our Grand Merlot achieves perfect ripeness before we harvest the fruit.
We purposely use seven different clones of Merlot in this vineyard to give us the freedom to experiment and innovate with every new season, to ensure we consistently produce the highest quality merlot this region has seen!
Grandest of grand, we guarantee that the new release 2016 Grand Merlot vintage will deliver on expectation with its deep crimson colour paired with beautiful notes of plum, black cherry, spice and a touch of coffee oak on the nose. Complexity of flavour, texture and structure are experienced through each sip, tantalising your tastebuds and seeing you finish the bottle before you know it… Yes, we are speaking from experience here!
And if you're after a flavour combination that is restaurant quality but from the comfort of your own home, than pair our 2016 Grand Merlot with this delicious grilled flat iron steak with blue cheese chive butter! Steaks and Merlot paired together are a no brainer and this recipe goes one step better with blue cheese, rosemary, garlic, and a hot grill. It doesn't get much better than this.
We acknowledge the chaos and unrest across the globe at present and empathise will all those deeply affected. We continue to fight another day and do what we can to keep our businesses afloat and prospering during this difficult climate. We hope this new release of our 2016 Grand Merlot will put a smile on all our loyal Merlot drinkers face. Here's cheers to a wine of pure elegance, longevity and structure, a wine worth celebrating!
Buy now: 2016 Grand Merlot