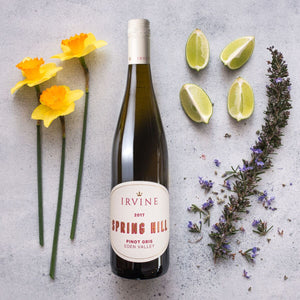 What connection does the Pinot Noir grape have to Pinot Gris and Pinot Grigio? Pinot Gris and Pinot Grigio are exactly the same grape, a mutation of the red Pinot Noir grape from Burgundy in France.  Pinot Grigio is the Northern Italian style of this crisp dry wine - light and lean, and Pinot Gris is the more luscious rounded sister - which makes sense as it's from the Alsace region of North East France that borders onto Germany. This foodie crossover region is known for its rich pork dishes and tartes.
The complex flavours of Pinot Gris make it not just a great aperitif wine, but also a very food friendly dry white wine that can go toe to toe with even quite rich fish dishes, pork, chicken and vegetarian/cheese dishes.  The hint of honey also works really well with Asian food such as Thai Fish Cakes or Thai Green Curry.
Check out Peter Gordon's Nam Phrik Num dressing that goes really well with grilled or pan fried salmon.
The lovely pear flavours in our 2017 Spring Hill Pinot Gris will really complement a simple pork dish served with a spring pear and green salad.  Toss together rocket and watercress, thinly slice a pear and toss into lemon juice.  Add shaved parmesan and walnuts.  Dress with EVOO and more lemon juice if needed, try also thinly sliced fennel or Nashi Pear. Finish with salt and lots of fresh pepper.