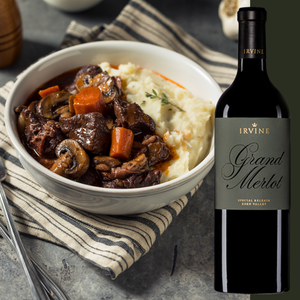 Are you ready for the ultimate food and wine experience? Then you don't want to miss the Good Food and Wine Show (GFWS) happening from 21 to 23 July at the Perth Convention and Exhibition Centre. This is your chance to discover new flavours, meet celebrity chefs, and enjoy some of the best produce in the country. 
We are super excited to be a part of this amazing event. Come say hi, sample our wines and chat with our winemakers about our winemaking process. We also have a special offer waiting for you at the booth. If you buy a minimum of a dozen of our reds, whites, or mixed wines, we'll throw in a complimentary bottle of our exquisite Grand Merlot! 
Speaking of reds, did you know that we are pioneers of the Australian Grand Merlot? Our award-winning Grand Merlot is a full-bodied red with aromas of plum, cherry and spice and a smooth finish that goes well with a variety of dishes. If you are looking for some inspiration on how to pair it with food, we have a delicious beef bourguignon recipe for you.  
This classic beef bourguignon recipe by Neil Perry is a hearty French stew perfect for the winter season. The rich sauce, tender meat and aromatic herbs complement the Grand Merlot beautifully. Serve it with some crusty bread or mashed potatoes and you have a cozy meal for the whole family.  
Ingredients 
    1.4kg beef chuck, cut into 2cm dice 
    1 large brown onion, peeled and finely chopped 
    2 carrots, peeled and finely chopped 
    2 garlic cloves 
    1 bottle of good, rich red wine 
    180g lean salt pork, diced (you can use bacon) 
    50g (⅓ cup) plain flour 
    450g small button mushrooms, stems trimmed 
Bouquet garni 
    3 parsley sprigs 
    2 thyme sprigs 
    1 bay leaf

Method 
Tie the ingredients together with kitchen twine or wrap in muslin to make the bouquet garni.

 

In a large mixing bowl, combine the meat, onion, carrot, garlic, and bouquet garni. Pour in the wine and season with salt, then combine all of the ingredients. Marinate for 24 hours in an airtight container in the refrigerator.

 

Take the beef out of the marinade, keeping the marinade, and pat dry with a paper towel. 

 

Melt butter in a heavy-bottomed saucepan with a tight-fitting lid over medium-high heat. When the oil is hot, add the salt pork or bacon and cook for 6 minutes or until crisp.

 

Season the beef with salt and pepper, then add it to the pan and brown on all sides, about 7 to 8 minutes. Cook for 3 minutes, stirring regularly, after adding the flour.

 

Bring reserved marinade and 500ml (2 cups) water to a boil over high heat. Reduce the heat to a moderate simmer, cover until the potatoes are cooked for about 3 hours. After 2½ hours, add the mushrooms and simmer for another 30 minutes or until cooked.

 

Remove the bouquet garni and pour the braise into four dishes to serve. Season with pepper and serve with mashed potatoes and greens.

 

 
Are you drooling yet? Then don't forget to swing by our booth and get your complimentary bottle of Grand Merlot when you buy your favourite dozen to enjoy with your meal or share with your friends.  
The GFWS Perth is just around the corner and we can't wait to see you there. Book your tickets today and join us on an unforgettable journey through the world of wine, where every sip unlocks a world of flavours and every bite is filled with sheer indulgence.